XL Terrestrial is a former student of the H.I.V.E. Academy and an enemy of the Teen Titans.
Character history
The exact origin of XL Terrestrial is unknown, but at some point he was recruited as a student into the H.I.V.E. Academy. Cyborg later infiltrated the institute to discern the latest plans of its then-current headmaster, Brother Blood. In the wake of the resulting conflict the academy was destroyed and most of its students, including XL Terrestrial, went freelance.
Some time later, XL Terrestrial was initiated into the Brotherhood of Evil. He was assigned in bringing down Aqualad's friend, Tramm. Tramm managed to escape, however, and joined Aqualad, only to be beaten by Trident and Plasmus afterward. When the Titans mounted a final assault on the Brotherhood's base, XL Terrestrial planned to crush the Titans, but was defeated when Raven and Starfire fused their powers, created a spiral of dark energy and starbolts and blasted it at him. When he fell to the ground, his great mass sent a couple of his fellow villains flying. This defeated the Master of Games. For some reason, XL Terrestrial was seen in the crowd of Titans that were groaning after Beast Boy's brain freeze joke (after the freezing of the Brain).
XL Terrestrial has appeared in two issues of Teen Titans Go!. In "Pieces of Me", When Raven's different emotions escaped her body, the Titans found the Green Raven (fighting, kung-fu Raven) fighting XL Terrestrial. Even when the alien villain turned large, Green Raven still beat him up. It is unknown whether he was thrown in jail or if they just left him lying on the street. He appeared again in the issue "The Fearsome Five", where he was one of the assembled villains in the meeting Doctor Light and Psimon were hosting to form the group. When Psimon asked them who was interested in joining the team, XL Terrestrial was not interested, and he ended up getting knocked unconscious along with everyone else in the mass free for all.
Physical appearance
XL Terrestrial is a green skinned humanoid alien with a pair of antenna and piercing, red eyes. It is unknown if his antenna have a function, however. He has pointed ears similar to Beast Boy's. His costume is a blue, sleeveless turtleneck with a black stripe along his waist (like a belt). The top half of his legs are black, and the rest of his leg is covered with blue boots. He also wears blue gloves, and in the middle of his costume, he has a big red arrow which he uses to grow.
Powers and abilities
XL Terrestrial can grow to a size of approximately 20 feet by touching the arrow on his costume's chest, thereby increasing his physical strength, durability, endurance, and jumping. He also appears to have the ability to breathe underwater and resist the cold and pressure in the deep sea.
Appearances
Teen Titans
Season 3
Season 5
Teen Titans Go!
Gallery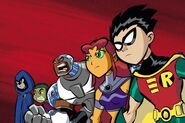 Click here to view the gallery.
Trivia