"X" is the twenty-eighth episode of the Teen Titans series and the second episode of Season 3.
Synopsis
Robin's past comes back to haunt him when the Titans are shocked to see the return of a villain they never thought they see again... Red X. It turns out that someone has stolen the suit and has now donned himself Robin's old villain identity and is out to gain himself a rare but dangerous chemical that powers the suit. Now Robin must face his past mistake if he and the team stand any chance to stop Red X, but Red X isn't the only thing they need to worry about as soon something much worse will threaten the city.
Plot
The Titans attempt to stop a break-in of a warehouse - only to find the burglar to be none other than Red X. Despite the Titans' best efforts, Red X manages to steal a device and get away, even though his power belt briefly malfunctions.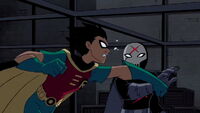 As it turns out, the Red X suit has been stolen from the vault in which Robin had locked it because he was unable to destroy it. To top off the good news, Robin reveals that the suit is powered by a dangerous substance called Zynothium, and that Red X is likely trying to use the stolen scanner to locate more of it. In order to rectify his biggest mistake, Robin seeks out the criminal scientist Professor Chang, who had helped him in procuring the Zynothium in the first place, and forces him to reveal the most likely location where more Zynothium is stored: a tech company on the city's south end. Robin informs the other Titans, but before Cyborg can get there, he is ambushed and incapacitated by an unknown assailant. Arriving at the place, the Titans encounter Red X but are again unable to stop him, and Red X penetrates the facility. Robin tells the Titans to split up, but one by one Beast Boy, Raven and Starfire are taken down - and not by Red X.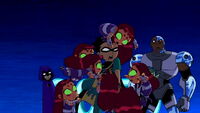 In the meantime, Robin finds and chases Red X, finally cornering him in the Zynothium storage vault. Their fight is interrupted by a group of men in HazMat suits, who turn out to be Professor Chang's henchmen. By breaking into the facility and disabling the most crucial security systems, Red X and Robin had enabled Chang to get the Zynothium he needed to power his super disintegrator cannon, which he intends to use to take revenge on the city. In order to ensure no interference from Robin, he had his men capture the other Titans, who are standing, flash-frozen, in his headquarters as hostages.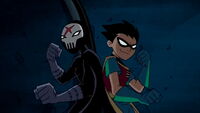 Despite Red X's taunts, Robin imprisons him and sets out to rescue his friends. Just as Chang prepares to fire the cannon, Robin interferes, with only the top portion of Titans Tower getting hit, but ends up helpless before the gun's muzzle. Suddenly, Red X appears, disabling the cannon's controls, saving Robin and helping him in bringing down Chang and his henchmen. Red X takes a vial of Zynothium, planning to use it to power the suit, but much to his surprise finds that Robin had taken his power belt from him. As the Titans try to take Red X to jail, he throws the vial of Zynothium at their feet, using the detonation to cover his getaway. While Chang, his gang and the Zynothium are returned to their rightful places, Robin muses darkly about the clarity of the lines between good and evil.
Characters
Main Character
Supporting Characters
Villains
Others
Trivia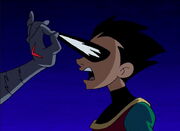 Continuity
Cultural references
Gallery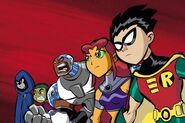 Click here to view the gallery.
See also
Community content is available under
CC-BY-SA
unless otherwise noted.