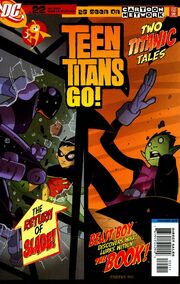 Issue 22: The Book/Listen
Writer: J. Torres
Interior Artwork:
Cover by: Sean Galloway
Release date: August 31, 2005
Plot
Book: Raven lends the Titans her most terrifying book. Nevertheless, she doesn't want lend it to Beast Boy, because he's very fearful. Then, he decides to "borrow" it and sneak out.
Listen: Robin is training with the True Master when he is attacked by robot commandos disguised as monks. Slade appears to fight!
Community content is available under
CC-BY-SA
unless otherwise noted.