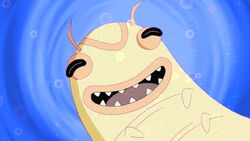 Silkie is one of the several thousand mutant moth larvae created by Killer Moth who later became the Teen Titans' official pet/mascot. Silkie was created as Larva M3-19 by Killer Moth for use in an army of giant mutant moths to overthrow and dominate Jump City. The plan failed spectacularly, and upon the destruction of the moth control device by Robin, all the mutant moths reverted from adult into larva state. Taken by their cuteness, Beast Boy decided to keep one as a pet, but since the other Titans would not approve, he did so secretly. This went well until the Titans returned from a clash with Johnny Rancid to find Ops in shambles. Cornered, Beast Boy decided to confide in Starfire and entrusted the larva, whom he had named Silkie, into her care until the Titans' search for the culprit was completed. Starfire took an immediate affection to Silkie and agreed to take care of him. Silkie has resided in the Titans Tower as the Titans' official pet and mascot ever since.
(read more...)

Community content is available under
CC-BY-SA
unless otherwise noted.