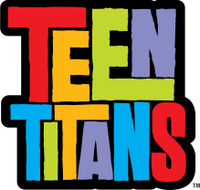 Teen Titans is an animated series created and developed by Glen Murakami and David Slack, based on the DC Comics characters of the same name. It is based primarily on the run of stories by Marv Wolfman and George Pérez in the early 1980s New Teen Titans comic book series. Initially, only four seasons were planned, but the popularity of the series led to Cartoon Network ordering a fifth season. It first premiered on July 19, 2003 at 9:00 PM as part of the Saturday Video Entertainment System (S.V.E.S.) block and its series finale, "Things Change", aired on January 16, 2006 at 4:00 PM, though it was later followed by a film that premiered on September 15, 2006 at 7:30 PM, serving as the series finale. A comic book series was published called Teen Titans, Go!. This series focuses on the characters from the animated series, rather than the original Teen Titans.
In 2013, the show spawned a spin-off, Teen Titans Go!.
Episodes
Heroes
Teen Titans
Titans East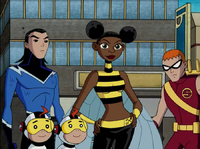 Titans North
Titans South
Titans West
Honorary Titans
Villains
Major villains
H.I.V.E Five
Other Villains
Other Characters
Style
Teen Titans frequently used self-referential humor and its animation style is heavily influenced by anime. Along with its heavy anime influence, the animation also has signs of past DC cartoon styles seen by Glen Murakami, and previously Bruce Timm. While certain aspects of all characters are changed to accommodate a more light-hearted anime style, different aspects can be compared to earlier shows such as Batman Beyond or Justice League, and bear resemblance.
On different episodes, the series' theme song's lyrics alternate between English and Japanese, sung by the J-pop duo Puffy (called "Puffy AmiYumi" in the United States to distinguish it from Sean Combs). Voice director Andrea Romano revealed in an Easter egg on the season 3 DVD that the Japanese theme song means it will be a silly episode, while the English theme song means it will be a serious episode (except "Nevermore" and "Every Dog Has His Day").
Cancellation
In mid-November 2005, TitansTower.com reported that prospects for a sixth season were looking extremely unlikely, and fans were urged to express their support for the show to Cartoon Network. Several days after this initial posting, word came that Cartoon Network had officially terminated the show. According to Wil Wheaton, the actor who provided the voice of Aqualad, the series was terminated by new Warner Bros. Feature Animation executives who made the decision not to renew the series based on its sixth season pitch. Wheaton's story was contradicted by series story editor Rob Hoegee, who stated that the decision came from Cartoon Network, not WB, and that there were never any plans for a sixth season. Other theories include that the show got cancelled due to low toy sales and/or the show had more female viewers.
After the series finale, Warner Bros. Animation announced a feature called Teen Titans: Trouble in Tokyo. The film premiered at San Diego Comic-Con International and was shown on Cartoon Network first on September 15, 2006, aired on The WB on September 16, 2006, and finally released on DVD on February 6, 2007.
Towards the end of 2011, Internet rumors speculated that a sixth season of the show was in the works.Such rumors were based on reports that Greg Cipes, the voice of Beast Boy on the show, had stated that work on a new season was underway and that a live action Teen Titans film was planned for release at the end of 2012. Around 2012, Derrick Wyatt (animation designer of the series) also stated the next arc would feature the Titans setting up international Towers, and battling the monster from the season 5 finale.
During a WonderCon panel in March 2018, Teen Titans Go! producer Michael Jelenic said he could "almost guarantee" the original Teen Titans series would be returning.[14] No announcement has been made as of May 2018.
Shortly after the Teen Titans Go! Movie premiered Greg Cipes took over the Movie's Instagram and Twitter accounts for Q&A, a fan asked for one word about the mid-credit scene to which he replied " Our Fans will always get what theys Wants."
Comics
Reception
Some fans of the comics criticized the series for having a "childish nature". The Teen Titans were based on their DC Comics iterations. However, the TV series often showed the heroes in cartoon states.
Early into the series' run, Executive Producer and Cartoon Network V.P. Sam Register responded to criticism regarding the style of the show with a statement slightly contradicting Murakami's statement about wanting Robin to "be cool" with his metal-tipped boots.
However, while the series' creators initially stated that younger children were the intended audience for the series, Teen Titans Go! writer J. Torres notes that the progression and deeper themes of the show widened the appeal to a much broader audience:
Years after its finish, the show maintains a loyal fan base, and has recently experienced a resurgence of popularity thanks to its addition to the cartoon lineup on Boomerang. Teen Titans was named the 83rd best animated series by IGN.
In 2014, WatchMojo.com ranked Teen Titans as the sixth best cartoon to have gotten cancelled.
The original Teen Titans returned to Cartoon Network for reruns on August 7, 2017.Since then, the program has aired on weekday mornings at 6:00 and 6:30 AM EST, as well as weeknights at 5:00 and 5:30 PM EST.
Awards and Nominations
2005 Annie Awards
Outstanding Storyboarding in an Animated Television Production (Nominated)
2004 Annie Awards
Outstanding Music in an Animated Television Production (Nominated)
Outstanding Storyboarding in an Animated Television Production (Nominated)
2004 Motion Picture Sound Editors Awards
Best Sound Editing in Television Animation (Nominated)
Movies based on Teen Titans
The movies based on 2003 Teen Titans are as follows.
See also