Stream of Consciences is the third episode of the New Teen Titans shorts.
Plot
One evening in the Titans Tower, Beast Boy is alone in the kitchen when he notices a plate of nice, hot chocolate chip cookies. As he was about to take one, he notices a sign above the cookies reading "DO NOT TOUCH." The hero looks around before reaching for the plate anyway, but Robin appears as his shoulder angel and tries to talk him out of it. Then Cyborg appears as his shoulder devil and prompted Beast Boy to go ahead.
As Beast Boy faces the dilemma, Starfire appears on the shoulder with Robin, asking why they are on Beast Boy's shoulder. Robin and Cyborg, still on their roles, explains that they're trying to get Beast Boy to their side. Suddenly, Raven appears on Beast Boy's other shoulder, telling him to simply "eat the stupid cookie".
Starfire becomes distracted and begins to play inside Beast Boy's brain, causing Beast Boy to appear on his own shoulder. The shoulder Beast Boy takes a scent at the cookies, then dives into the pile to take a bite. Now the real Beast Boy finally made his decision eat the cookies, much to Robin's disappointment.
Characters
Trivia
Silkie make a blink-and-you'll-miss-it cameo, popping out from Beast Boy's right ear at the end of the short.
Gallery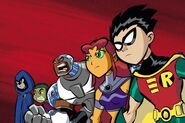 Click here to view the gallery.
Community content is available under
CC-BY-SA
unless otherwise noted.