Steel City, which is located in the eastern region of the United States, is the main headquarters of Titans East.
History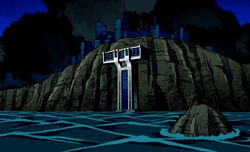 After losing two of his headquarters in "Deception" and "Wavelength", Brother Blood planned to make a new school in the city with his first students being Titans East and the Teen Titans. After he is defeated, the Titans East continue to live there, occasionally going to Jump City to fill in for the original Teen Titans.
The Titans who reside in Steel City include:
Titans East Tower
The Titans East Tower is the Titans East's base of operations, built by the Titans East, with the assistance of Cyborg. It is situated on the side of a cliff near the coast of the city. As the tower was first shown in a dilapidated state, rather than freshly built, it is possible that the tower was inhabited previously.
The tower, along with the city itself, was the main setting for "Titans East - Part 1" and "Titans East - Part 2".
Rooms
Trivia
Steel City is based on Pittsburgh, PA, in which the city is nicknamed.
Steel City is described as having the smell of decay in the air.
Gallery
Community content is available under
CC-BY-SA
unless otherwise noted.