Issue 20 : Secret Moves
Writer:
J. Torres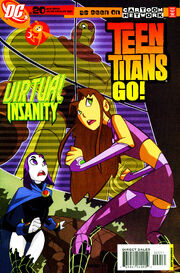 Interior Artwork:
Todd Nauck and Lary Stucker
Cover by:
Sean Galloway
Release date:
June 22, 2005
Plot
Atlas accidentally pulls Starfire and Raven into his virtual world! While Robin and Cyborg work on getting the girls back, Beast Boy discovers he can control Raven with his game controller. And Gizmo learns he can hack into the game as well!
Trivia
Starfire references the cartoon Hi Hi Puffy AmiYumi, which aired on Cartoon Network at the time.
References
Community content is available under
CC-BY-SA
unless otherwise noted.