| | |
| --- | --- |
| | Darn! This article is a stub. You can help Teen Titans Wiki by expanding it, or perhaps you could contribute to a discussion on the topic. |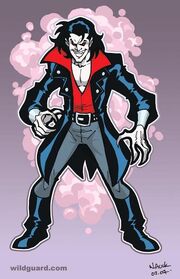 Nightrider is a character and member of the Teen Titans in a parallel Earth. The team was called Team Titans. His short appearance took place in issue #48 Wrong Place Wrong Time in a portal to Killowat's world.
Raven and Herald opened many portals to different Earths, and Killowat saw Nightrider, along with Battlion and Mirage fighting Slade's army. Knowing that these were his friends and his fellow Team Titans, Killowat quickly jumped into the portal and Raven closed it.