The Moroccan Thief is a common criminal who steals a vase in the Teen Titans episode "Trust".
Character history
With nighttime descending upon a Moroccan city, the unnamed criminal figured it would be a perfect time to steal a giant gold-plated pot. With excellent parkour skills, he managed to swipe the vase from a second-story shop and then jump into the alleys below. Stealth wasn't part of his plan, though, and now he had Hot Spot on his tail. In addition, there was some other mysterious figure in the shadows.
After a chase through the streets, Hot Shot finally caught up with the Moroccan thief. The Honorary Titan ordered him to drop it immediately, then shot a fireball as incentive. Luckily for the criminal, the flame hit the vase and not him, but his hands got singed by the glowing hot pot in the process. He promptly dropped it with a scream, and then surrendered to the authorities soon after. The thief was dealt with, but now Hot Shot has another problem, Madame Rouge.
Characteristics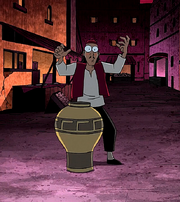 The thief wears standard Moroccan clothes, including black pants and shoes, a white long-sleeved undershirt, and a crimson vest. Like many people in the North Africa country, he wears a Fez on his head, only his lacks a tassel (the hat is also red). Apart from that, the thief seems to be well built, and he also has a nicely trimmed mustache.
Appearances
Teen Titans
Season 5
Gallery
Trivia
Although it was never explicitly stated that the city the thief lives in is Moroccan, several clues are given to reach this conclusion:
References