Malchior is an ancient and evil European dragon and an enemy of Raven.
Character history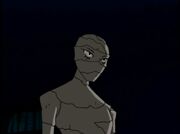 One thousand years ago, the wizard Rorek of Nol engaged the ancient dragon Malchior in battle. But the dragon proved to be physically superior to Rorek, so he decided to employ his very last resort and trapped Malchior inside his spellbook with a powerful curse. Through subsequent ages, the spellbook changed hands and eventually wound up in Raven's possession.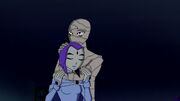 Upon first reading it, Raven was quite taken by the story of the battle; so much in fact that she completely isolated herself from her teammates just to read the story to its end. When she felt the loneliest, Malchior made his move, introducing himself as the wizard and telling her the story of how the dragon imprisoned him in the book. He pretends as a kindred spirit who could empathize with Raven's nature. He slowly won Raven's trust and affection and manipulated her into freeing him from his physical imprisonment first, then he taught her his full knowledge of magic to enable his complete escape. She temporarily becomes suspicious of him when she realizes he has been teaching her dark magic, but he is able to persuade her to continue trusting him by explaining dark magic is not necessarily evil magic, though this turns out to be a lie as well.
Raven succeeded in breaking the curse, but at the same time and to her horror came to realize that what she had unleashed is actually the evil dragon whom Rorek successfully imprisoned. When the Titans proved unable to take down Malchior in hand-to-hand combat, Raven used Rorek's curse to entrap Malchior in the spellbook once again and locked it away. Her sadness about his trickery was soon alleviated by Beast Boy, who offered her a shoulder to cry on.
Sometime later, Malchior was somehow freed and joined the Brotherhood of Evil in his paper form, though he could assume his dragon form at will. During the final confrontation with the Titans, he planned to incinerate Bobby, Melvin, Timmy and Teether, but his vicious attack was stopped by Herald, whose horn opened a dimensional rift which sucked first Malchior's fireburst and then Malchior himself into another dimension.
Powers and abilities
While trapped in Rorek's huge spellbook, Malchior's powers of dark sorcery were severely limited. He could, however, reshape and remodel the book's pages and its contents at will, which greatly helped him in facilitating his escape.
In his humanoid paper form, Malchior could employ his magical powers to some further extent, enough to instruct Raven in their use and even imprint written knowledge directly into her mind.
In his true dragon form, Malchior possessed super strength and physical endurance and the power to fly. In addition to his physical weapons (teeth, claws, tail and fire breath), he also possessed a great amount of resistance to offensive attack forms, whether physical, energy, or magical, so much so that he was able to best the Titans at full force. He could also communicate telepathically with others, if he ever bothered to do so. The only way he could be defeated by was through Rorek's curse. In all three forms, Malchior possessed vast knowledge of dark magic and any lore about the arcane arts ever known to man.
Master Manipulator and Deceiver: He was capable of easily convincing a lonely and dejected Raven; enough to earn her strong allegiance to work for him as his devoted protege and disciple so she could have enough power to release him into the real world.
Relationships
Raven
In "Spellbound", Raven fell in love with Malchior while he was disguised as Rorek, and set to free him from the Ancient book. She set out to find an ancient spell that would release him, but realized too late that he had changed the book labels, naming the man 'Malchior', and him 'Rorek'. Not only did this unleash Malchior in his true form from the book, but also broke Raven's heart since he was only manipulating Raven into releasing him. She managed to trap him in the book once again, but was now more lonely than ever. Beast Boy knocked on her door, attempting to apologize to her for calling her 'creepy' a while back. He is quite surprised when Raven steps out of her room to give him a hug.
Appearances
Teen Titans
Season 3
Season 5
Teen Titans Go!
Gallery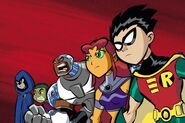 Click here to view the gallery.
Trivia
Malchior is the only dragon seen in the show.
The arcane arts he has read and then mastered are the Galleon Scrolls, the Mornal Archives, the Stones of Syr, the Book of Nord, the Endreal Verses, the Rominomicon Archive, the Bursean Chronicles and O'Riordan the Strange. However, he may have been exaggerating.
He represents the Aesop that there are people who pretend to be someone else and manipulate others into doing what they want, as a subtle warning from the developers of the show.
He is similar to a character called Eric Forrester. In the comics Raven fell in love with him and trusted him. In reality he was only using her to steal her Soul-Self. He was a cyberpath who would steal data from computers but the more he did this, the more he lost his humanity. To counter this he would steal the life force of women. Eventually the truth was revealed and he was defeated.

While it's possible the similarities are also just a coincidence, as Eric is a very obscure character with a very short appearance, Malchior could have possibly been based on or inspired by this character. Instead of a technopath he is a dragon disguised as a wizard in Raven's book which could be because the magic theme could have fitted more with Raven.