I.N.S.T.I.G.A.T.O.R. (an acronym for the Integrated Neural System Techno-Intelligence Gyroscopic Atomic Tactical Organic Robot) is a former student of the H.I.V.E. Academy and an enemy of the Teen Titans.
Character history
The exact origin of I.N.S.T.I.G.A.T.O.R. is unclear, but at some point he was recruited as a student into the H.I.V.E. Academy. Cyborg later infiltrated the institute to discern the latest plans of its then-current headmaster, Brother Blood; in the wake of the resulting conflict the academy was destroyed and most of its students, including I.N.S.T.I.G.A.T.O.R., went freelance.
At some later point of time, I.N.S.T.I.G.A.T.O.R. was recruited into the Brotherhood of Evil and participated, along with Steamroller, in the capture of Thunder, in which they succeeded. When the Titans mounted a final assault on the Brotherhood's base, I.N.S.T.I.G.A.T.O.R. fought against Hot Spot and when the firy Titan launched a flame blast, the mechanical villain was defeated and ended up flash-frozen along with the majority of the assembled villains.
Powers and abilities
I.N.S.T.I.G.A.T.O.R. appears to be either a merging of human and robot or a sentient robot; his exact nature remains unexplained. Owing to his robotic systems, he possesses superhuman strength and resilience. Since he is a robot, he may possess some amount of knowledge in robotics and technology. His exact fighting prowess wasn't seen, but when capturing Thunder, he was able to stretch his arm.
Appearances
Teen Titans
Season 3
Season 5
New Teen Titans shorts
Teen Titans Go!
Gallery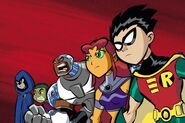 Click here to view the gallery.
Trivia