"Homecoming - Part 1" is the fifty-third episode of the Teen Titans series and the first episode of the Season 5.
Plot
When Beast Boy's former team The Doom Patrol is in trouble, the Titans must embark on a daring mission to save them. Beast Boy explains that this can only mean one thing: the Doom Patrol's greatest foes are back. The Brotherhood of Evil has returned. The Titans manage to find and free the Doom Patrol, largely due to Beast Boy's participation, but his willingness to save his friends has enabled the Brotherhood of Evil to claim "the most devastating power in the cosmos", endangering the entire planet, and possibly beyond, which Mento blames on Beast Boy for his disobedience.
A few years later, Beast Boy was sent a distress signal from Mento. After receiving it, Beast Boy went to rescue his old teammates.
Characters
Main Characters
Supporting Characters
Villains
Trivia
This episode marks the first appearance of the Doom Patrol members...
This episode also marks the first appearance of the Season 5 main villains, The Brotherhood of Evil...
This episode shows us the first time Beast Boy transformed into a Tyrannosaurus.
Throughout the episode, Beast Boy refers to the Doom Patrol by their given names rather than hero names
This is one of the few episodes where Beast Boy shows a serious side.

This episode implies most of Beast Boy's personality and antics are an act to mask his sadness with the Doom Patrol.
Gallery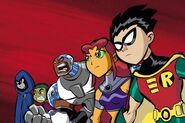 Click here to view the gallery.
See also
Homecoming - Part 1 (Transcript)