The GameStation is a series of video game consoles used by the Teen Titans and various other characters.
Description
The GameStation brand has at least 5 console versions (GameStation, GameStation 2, GameStation X, GameStation XL and GameStation Turbo Extreme). With the exception of XL and Turbo Extreme, the game consoles appear to support wireless controllers. Within the Titans, Robin, Beast Boy and Cyborg are the most frequent users. Starfire is the only member not to have touched the game console entirely.
It is explained by Robin from the Teen Titans Go! comics that the GameStation "improve hand-eye coordination, reflexes and practice teamwork".
History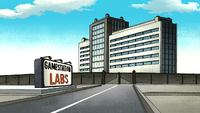 In "Only Human", Cyborg was seen playing a fighting game alone with the GameStation to relieve from an incident in the gym. Eventually, an online duel between Cyborg and Atlas turned into a real fight after the latter demanded a rematch.
In "Crash", Beast Boy tries to play a new game (Mega Monkeys 4), only for the console to reject the disc. Although Gizmo manages to start up the game with his own console, the game play was disrupted when Raven unplugged the main cable to get his help in recovering Cyborg from a virus.
While Cyborg invites the Titans East to celebrate for the hard work done in setting up their tower during "Titans East - Part 1", Más y Menos jumps in and try convince Cyborg to play GameStation 2. Earlier in the episode, Beast Boy attempted to have Raven play the console against her will, by gluing a game controller onto her hands.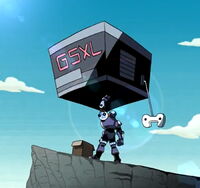 At the start of "Cyborg the Barbarian", Cyborg pulls out a set of GameStation XL and claims it to be brand-new, hot-off-the-shelf and impossible-to-find-anywhere.
In "Employee of the Month", Beast Boy took up a job as a game console tester for GameStation Turbo Extreme (or GSTX for short), the largest of all versions in terms of physical console size. Its prototype appears to have gigantic controls with at least six buttons and one joystick. Beast Boy ended up inadvertently blowing up the prototype.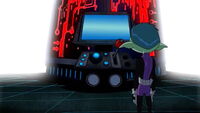 In issue #25, a last set of GameStation X console was used as a distraction to defeat Billy Numerous, then given to Mr. Wolf as Robin felt that he needed it more. While the console was supposed to be Robin's gift to Beast Boy as part of the "Secret Santa", Robin promises Beast Boy he'd get another set once a new stock arrives in the store.
In issue #20, the female Titans, including Jinx were accidentally zapped into the game server by Atlas, who was looking for a rematch against Cyborg. They fight off Blackfire, Terra, including each other, while being controlled by the male Titans. In the end, Atlas gets bored of the battles and resets the server, while Cyborg recovers the trapped Titans.
Appearances
Season 1
Season 2
Season 3
Season 4
Season 5
Specials
Teen Titans Go! comics
Owners
Trivia
List of possible games:

A hovercraft racing game
A robot fighting game
Mega Monkeys 4
Super Ninja Fury

This console's name could possibly be based off of PlayStation.
Community content is available under
CC-BY-SA
unless otherwise noted.