Flamebird is a new recruit of the Teen Titans. Her real name is Bette Kane.
Flamebird first appeared in issue #50 of Teen Titans Go! as a potential new member along with (the TTG universe's version of) Mirage, Aquagirl, Golden Eagle, and Azrael. She is later shown in issue #55 in Starfire's hallucination to have joined Titans North along side Mirage.
Trivia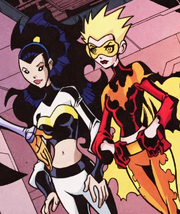 In the comics, the character originally appeared during the 1960s as "Betty Kane" and was the original Bat-Girl, the sidekick to Batwoman. Years later, her name would be modified to "Bette Kane" and she would assume the role of Flamebird.
In the comics, Flamebird was obsessed with Robin, but it is unknown if such a trait carried over into this incarnation.
The costume Starfire was wearing in Teen Titans Go! issue #24, was Bette's original Bat-Girl costume.