Cyborg the Lifeguard is the sixth episode of the New Teen Titans shorts.
Plot
Cyborg is seen working as a lifeguard in an indoor pool. Suddenly, a girl calls out Cyborg for help. Cyborg responds to the call and dives in, however due to his weight, the girl, along with all the water from the pool was ejected, leaving the girl hanging onto an ceiling light.
Later, the pool is refilled and Cyborg is back in his lifeguard chair. The same girl calls for help again, and Cyborg dives into the pool (this time, head first), sinking to the bottom. He runs to the spot where the girl is located above, activating extendable legs to get him to the surface and save the girl. However, the legs start to bend, sending both to the side of the pool, with Cyborg receiving a head injury.
Soon after, the girl calls for help a third time. As Cyborg jumps into the pool, he inflates a built-in raft and propels the raft, grabbing the girl and placing her onto the raft. Unfortunately, the raft bursts, leaving Cyborg pulling back with a slight laugh.
Now, Cyborg is back at his post, having lost his mood after three failures. Once again, the girl calls for help. With a press of a button on his chest, Cyborg's armor comes off and he goes into the pool. Upon reaching the girl, he was so exhausted that could not lift up the girl, fainting and in the verge of drowning himself. The girl then swims down and saves Cyborg instead, throwing him onto the surface and begins mouth-to-mouth resuscitation, to which Cyborg gives a thumbs-up.
Characters
Trivia
Gallery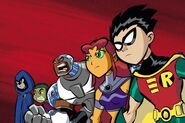 Click here to view the gallery.
Community content is available under
CC-BY-SA
unless otherwise noted.