"Crash" is the thirtieth episode of the Teen Titans series and the fourth episode of the third season.
Synopsis
When Beast Boy downloads a copy of the newest video game "Mega Monkey 4," he goes to Cyborg's room to use it on his computer, but accidentally tries it out on his system recharger which infects Cyborg with a serious virus. The only person who can possibly fix him is none other than Gizmo. Gizmo claims that the only way to fix him is to go into his body and destroy the virus from the inside, but during the operation Cyborg breaks free and goes on a feeding rampage in the city. Gizmo and Beast Boy must now try to repair Cyborg from the inside before the virus spreads throughout the entire city.
Plot
Beast Boy has just hacked into the global network and managed to get an illegal advance copy of a new computer action game. But the Titans Tower's main video game and computer systems reject the copy, so Beast Boy sneaks inside Cyborg's room to use his computer. He makes the unfortunate mistake of uploading the game on Cyborg's System Recharger, and since he had deactivated the Titans' security programs to obtain it, it has come with a computer virus as a nasty surprise bonus, which promptly infects Cyborg as he attempts to take a recharge.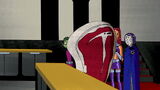 With his brain addled by the virus, Cyborg throws himself at anything which appears edible in his mind's eye - including his fellow Titans. Beast Boy, feeling guilty, offers to make things right, but the others don't trust him to succeed in such a delicate operation and "recruit"
Gizmo
instead. In order to erase the virus, Gizmo shrinks down to microscopic size and prepares to enter Cyborg's brain. But just as the injection is to take place, Cyborg breaks free and runs amok in the city. While Gizmo has been injected, he was inserted at the lowest possible end and so has to work himself up all the way to Cyborg's brain. Beast Boy, transformed into an amoeba, joins him, still determined to correct his blunder.
Robin and the girls attempt to restrain Cyborg, who runs through the city center, consuming any and every (in-)edibles that catch his eye. Finally, in his agitation, he begins to infect any other electrical device he touches with the virus - and his next target is the main dish of the city's communication center, which would spread the virus to every machine within 100 miles, thus making its elimination an impossible task.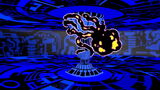 Beast Boy and Gizmo finally reach the brain after passing scores of drones created by the virus. While Gizmo is prepared to use even radical methods to finish the virus - including setting an EMP charge that would shut Cyborg down, possibly for good - Beast Boy is determined to rescue his friend without harming him any further. But the virus proves stronger than expected; Gizmo runs for it, and Beast Boy is caught by the virus. But then an idea hits him, and using
an inherent ability
of single-cell organisms, he overwhelms the virus by multiplying himself, eliminating its threat - just in time to prevent Cyborg from biting heartily into the dish's antenna tip. Beast Boy is lauded by the Titans for his success, but in the excitement of the moment, they have forgotten Gizmo, who has been expelled from Cyborg's body along with the remnants of the virus' drones and is still trapped in microscopic size in Cyborg's snot.
Characters
Main Characters
Supporting Characters
Villain
Trivia
Gallery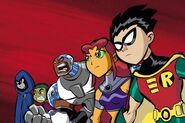 Click here to view the gallery.
See also
Community content is available under
CC-BY-SA
unless otherwise noted.