"Can I Keep Him?" is the thirty-sixth episode of the Teen Titans series and the tenth episode of Season 3.
Synopsis
When the Titans arrive back to the Tower after a battle with Johnny Rancid, they are shocked to find the Ops Center in ruins. Believing that an intruder has entered the Tower, the Titans spilt up to track it down. However, Beast Boy reveals to Starfire that there is no intruder, but really it's his pet Silkie whom he has been keeping a secret from the rest of the team. When Beast Boy asks her to look after him temporary, Starfire immediately bonds with Silkie and ends up adopting him, but after feeding him alien food from Tamaran, Silkie grows to immense size and can no longer be kept a secret. Will Starfire be forced to say goodbye to her beloved Silkie or Will something much worse come between them?
Plot
Johnny Rancid comes back to Jump City to wreak havoc, this time with the assistance of his robot bulldog Wrex. Of course, the Titans rush to stop this tinfoil puppy, and though it proves to be hard going, they manage to reduce it to a pile of scraps. However, Beast Boy lets Rancid get away, so the group returns to Titans Tower to track him down.
When the Titans enter Ops, however, they find it thoroughly messed up. While
Robin
initiates the search for Rancid, the other Titans are tasked with tracking down their intruder. After drawing up a diversion, Beast Boy yanks
Starfire
into his quarters and reveals that he knows who trashed the Tower: After
their first altercation
with the villain
Killer Moth
, he had secretly kept one of his mutant larvae as a pet and named him "
Silkie
". Since the other Titans would not approve of him when they find him, Beast Boy now asks the kindhearted Starfire to hide him. After some initial revulsion, Starfire swiftly develops a deep affection for Silkie and adopts him.
But then a new problem arises: What to feed a hungry little mutant larva? After some attempts, Starfire resorts to feeding Silkie zorkaberries from her home planet, which Silkie consumes with great relish. But the alien nature of the berries causes him to suddenly grow to a grotesquely massive size, making hiding him all the more difficult, and in search for more food, Silkie escapes and attacks Cyborg for one of his legs. While Starfire succeeds in averting Silkie from coming to harm by her teammates, Silkie proves much too hungry and hazardous to make an acceptable pet, so Robin vetoes keeping him around.
Heartbroken, Starfire brings Silkie to a small rocky island off the coast and abandons him - but against all expectations, Silkie quickly finds company. The very same evening, Rancid returns for revenge with a new combat robot, Wrexzilla, but before his contraption can jump into action, it and its master are snatched and gobbled up by Silkie, mutated into a giant moth and ridden by none other than Killer Moth. A fight ensues which Starfire joins reluctantly, unwilling to harm Silkie, but after Robin almost ends up hurt, Starfire strikes back, blasting Killer Moth off his steed but getting yanked to the ground along with him by his plasma whip.
As the two pick themselves up and Silkie lands near them, each of them tries to entice Silkie to come back to him/her, Killer Moth playing upon his role as Silkie's creator, while Starfire attempts to shower him with kindness. Confused over two conflicting loyalties, the emotional stress gets to Silkie and causes him to explode, releasing Rancid and Cyborg's leg but seemingly destroying him. But as Starfire weeps among the debris, she hears some guttural calls, and after diving into the mess, she joyfully retrieves Silkie-alive, well and now reverted back to larva form. With a pleading eye, she convinces Robin to let Silkie stay with them, under the provision that she does not give him any more alien food. The immediate question of how to feed him otherwise is solved when Silkie begins to consume the renmants of his adult body, which bear the flavor of zorkaberries - a feast Starfire, to the other's consternation and disgust, cordially joins in.
Characters
Main Characters
Supporting Characters
Villains
Cultural references and spoofs
Trivia
Goofs
Gallery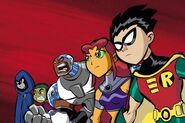 Click here to view the gallery.
See also