Brotherhood's robots are an army of robots employed by the Brotherhood of Evil to capture Honorary Titans.
Character History
The robots first appear in "Homecoming - Part 2", where many of them try to destroy the Teen Titans and the Doom Patrol, but get destroyed.
In "Hide and Seek", one robot is seen attacking Robin.
In "Calling All Titans!", General Immortus lead a large force of these Robots in an attack on the super-heroin Argent. While she put up a good fight and destroyed many robots, the New Zealand heroine was eventually overwhelmed and defeated by the robots. The robots captured her and at the end of the episode they were shown to have captured several other Honorary Titans. When Robin was taken prisoner, the robots dumped Mas, Aqualad, and Speedy before him in a pile, while one carried an unconscious Argent over its shoulder.
In "Titans Together", the robots were deployed as a final resort in a battle against the Teen Titans; however, they were easily destroyed.
Appearances
Teen Titans
Season 5
Gallery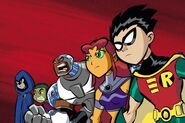 Click here to view the gallery.
Community content is available under
CC-BY-SA
unless otherwise noted.